ROLLED CANDLES - Beeswax candles
livepages::jquery();?>

We make traditional honeycomb textured candles in various sizes. Each one has a rich golden colour and a sweet honey scent which is a testament to the quality of the wax we use to make these very special candles.
Shown here to the left of the photograph is our 48 hour rolled candle which measures approximately 20cm (7¾") tall. The smaller 25 hour on the right measures 16cm (6¼") tall and the narrower 10 hour candle is to the front of the photograph, 20cm (7¾") tall.
If the sizes listed here aren't suitable for your holders please contact us for a quotation for made to measure sizes.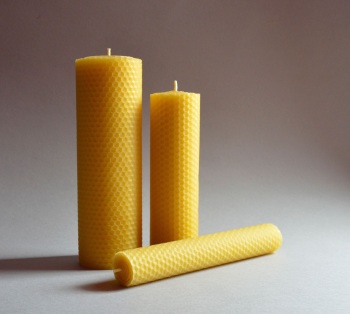 Showing 1 - 4 of 4 results